One day I dropped into a dodgy looking pet shop out in the middle of whoop whoop, this is where I came across a little black Tortoiseshell moggie, just 7 weeks old and laying in a litter tray at the bottom of a cat pen.
All the other kittens in the cat pen were bouncing around and playing with each other while the little Tortie was just laying there.  I could have picked any of the other little kittens however I thought she looked lonely and sweet.  I only had eyes for her.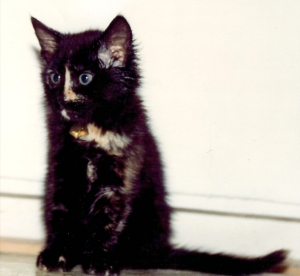 She was so tiny, just fitting into my hand.  I was told she was a Persian mix – which would explain her just rolled out of bed (or rather litter tray) coat.  I took her straight to the vet and found the reason for her being so quite, the poor little girl had ear mites.  After worming, vaccinating and purchasing ear mite drops (which made her look like she had fell head first into a bottle of olive oil) she was on her way to a better 'ear mite free' life.
My family owned a few cats when I was a young child, however, never two at the same time.  I had no idea that an adult cat generally does not take well to a new cat housemate.  I was about to get my first major lesson in cat ownership – never invite an unexpected visitor home to meet Kimba 'The White Lion'.
I bound into the house and announced to Kimba 'Meet your new sister, Morticha' and placed her on the floor so they could play.  Things appeared to be going quite well, Kimba calmly walked over to Morticha and sniffed her little nose.   As I took a photo to remember this first meeting, I thought 'Oh how sweet'.  Things then went horribly wrong!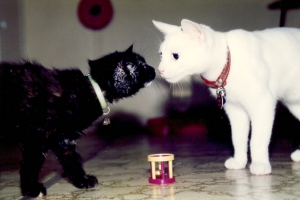 Kimba morphed from her usual gentle sweet nature into something I had never seen before!  She released a bone chilling scream while every hair follicle on her body stood on end.  In one swift motion she jumped poor little Morticha.  I was horrified!  I never thought sweet little Kimba had it in her.
I had to speak to a professional. I called the local 'Cat Association'.  I told my story, I sounded desperate, and I would do anything to make it right!  I was to undergo a premeditated introduction period, to position them in adjacent rooms.  This would allow access to smell each other under the doorway, without possible physical harm.  I was to continue with this until Kimba would progressively learn to accept Morticha.
That sounded pretty easy.  As I did not have suitable rooms adjacent to each other I had to devise another plan – I put Kimba in the kitchen and Morticha in the corridor with a bed sheet tacked between them from floor to ceiling.  In a matter of days Kimba had stopped hissing and spitting at the bed sheet and had become quite tolerant of her new family member.  It seemed the physical and mental barrier was slowly dissolving and they were successfully introduced (again) to each other.
Kimba and Morticha were growing into two beautiful cats with their very own totally unique yet opposite personalities.
Kimba was lean and muscular… big cat like, sensible, dependable, affectionate, reserved with strangers and was always well behaved (with the exception of vet visits , I would on those occasions again witness the morphed cat from years before – Kimba even successfully had herself banned from a veterinary practice). That is a story for another occasion?
Morticha was lazy…very lazy preferring to slide on her side to her water bowl then walk, affectionate and loved visitors albeit human, feathered or the furry kind, lived her everyday life with a devil-may-care attitude that earned her a reputation & affectionately nicknamed 'Missy Misdemeanour'.
As the years passed Kimba and Morticha became inseparable.  Cuddling, grooming each other, preferring to share the same bed and playing all the time.  There was hardly ever a minute in the day that they were not together.    They were best friends.
Author Bio:  Nikki is pack leader at Pressplay Pets, a blog for the modern age pet parent interested in health & care, news, reviews & personal accounts of unconditional love & at times heartfelt pain of pet parenting.  She is also proud mum to cute and cheeky Papillons 'Amber' and 'Indy'! 
Follow Pressplay Pets blog:
Follow Instagram, Facebook and Twitter
Pressplay Pets a blog for the modern age pet parent interested in health & care, news, reviews & personal accounts of unconditional love & at times heartfelt pain of pet parenting!
Follow Us!